Lessons in Legislative Advocacy: Effective Strategies for the CP Community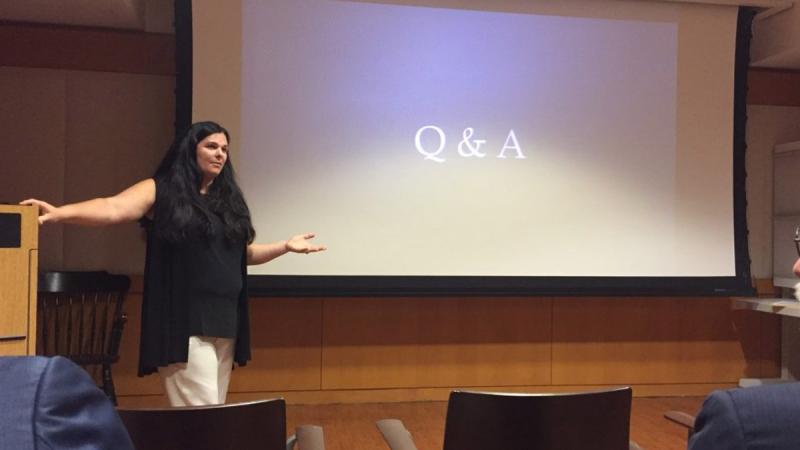 When Dr. Annie Kaplan's nephew passed away during routine oral surgery, she turned her grief into action. Through tireless advocacy, she helped pass Caleb's Law in the California State Assembly, which is the first step in creating guidelines for dental anesthetic use on children. Recently, she shared her story and strategies for legislative advocacy in healthcare with physicians, faculty, and administrators from the Weinberg Family Cerebral Palsy Center and Columbia University Medical Center.
Identify the Issue
There are many healthcare and quality of life issues affecting people with cerebral palsy (CP) – so which one to advocate? Before jumping in, Dr. Kaplan suggests deciding on what has the best chance of passing and bringing the most change in the least amount of time.
"Finding small things that you can win quickly makes the issue present in everyone's mind," said Dr. Kaplan. "A big advocacy push could be just writing policy guidelines for transitional CP care. This could be parlayed into legislation and grassroots action."
Assemble a Team
Putting together a strong coalition is what can make or break a bill. There's strength in numbers and everyone on the team should, ideally, be out to achieve the same goal. Coalitions are built from a wide-swath of people and organizations: there are lobbying groups, lawmakers, regulatory agencies, academia, and influential, public personalities. All of them are essential to shepherd the bill through numerous stages of the legislative process and make it a reality.
"For Caleb's Law, we now have a huge coalition that is moving in all different directions," said Dr. Kaplan. "Policy is being made. There's a start-up that just started fulfilling needs for dental anesthesia. We're making the change we want while the legislature is working it out as well. The change is there."
While researching what issue to get behind, it's advantageous to research any groups that may be interested in or may lobby against the bill. Even seemingly benign legislation could generate some controversy in certain sectors. There are ways of making oppositional interests work for the bill – either through chipping away at their coalition or talking with them.
"You should engage with the opposition and see how you can get to a place where everyone can treat their patients fairly," said Dr. Kaplan.
Start Small with Legislative Advocacy
Once there's solid groundwork, it's time to make those small wins happen. That includes regularly engaging with lawmakers and public interests and pushing them to the finish line. The best way to do that is to break down what can be passed now and what can be passed later.
"Incremental change is more successful in the end," said Dr. Kaplan. "When I started, I should've moved slower. I went for the big change right away and it brought on more opposition."
One of the more challenging aspects of this step is building a persuasive argument that will convince key decision makers that this bill is the right thing to pass and this is the right time to do it. If you're leading this advocacy push, Dr. Kaplan highly recommends that you should make yourself the expert on that issue and understand it inside and out. That way if anyone ever has a question, you'll have the answer or know the right person who has the answer. It may also convince anyone on the fence to join your cause.
"A great way to convince policy makers is to have real life stories available, so they can see the problem that needs to be fixed, and how passing this legislation can make it better," said Dr. Kaplan.
Keep the Momentum Going
Change rarely happens overnight. Progress will be slow for any legislative effort and, when or if it is passed, there may be other legislation required to strengthen the original bill. How do you keep your coalition engaged and your bill top of mind as days turn into months? Just keep moving.
"Don't take your foot off the gas," said Dr. Kaplan. "Keep advocating, keep the process moving, and you'll see the smaller wins as you get to your end goal."
To read more about Caleb's Law or contact Dr. Kaplan, visit here.