The Movement Recovery Lab Receives 2.6 Million Dollar Grant From the National Institutes of Health 
The Movement Recovery Laboratory at the Columbia University Weinberg Family Cerebral Palsy Center, led by Jason Carmel, MD, PhD, has recently been awarded a 2.6 million dollar Research Project (RO1) grant by the National Institutes of Health (NIH) for "Paired brain and spinal cord stimulation to strengthen spinal sensorimotor circuits". The goal of this project is to understand how electrical stimulation should be applied to strengthen nervous system connections in the cervical spinal cord, which is key for hand movement. For many people with neurological injury and disease, including cerebral palsy, stroke, and spinal cord injury, recovery of hand function is a top priority.
This grant will enable studies that could open up new therapies for our patients. I am so thankful to the members of my lab who have performed the preliminary experiments and to the NIH for its critical support, said Dr. Jason Carmel.
The close coordination of motor and sensory systems is critical for skilled movements and the approach explored in this project pairs stimulation of the motor cortex, which initiates arm and hand movement, with the part of the spinal cord that provides sensory feedback. Electrical stimulation is timed so that the motor and sensory signals converge in the spinal cord. Preliminary experiments in rats show that repeated stimulation strengthens the connections and improves dexterity after injury. The goal of the grant is to better understand how this improvement is achieved and to test its effectiveness after spinal cord injury. If the lab studies are positive, this method could be rapidly translated to clinical studies since both brain and spinal cord stimulation can be applied safely to people. 
For people with cerebral palsy specifically, improved hand function could increase independence and quality of life. The funded studies will improve our understanding about how best to deliver electrical stimulation so that the preserved nervous system connections can be strengthened. The goal is to change the nervous system in a lasting way. 
The process explained in more detail: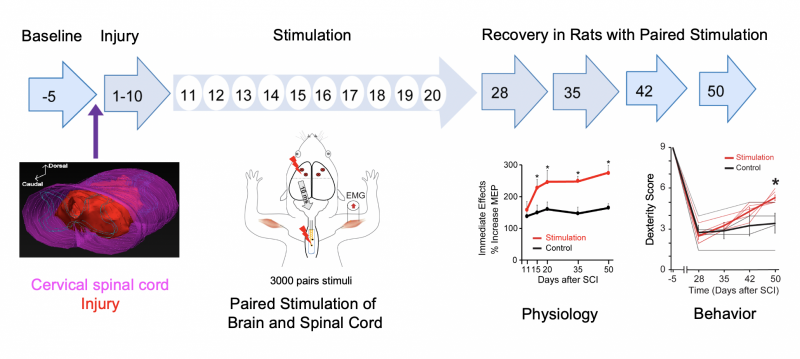 Find out more information on the Movement Recovery Lab.