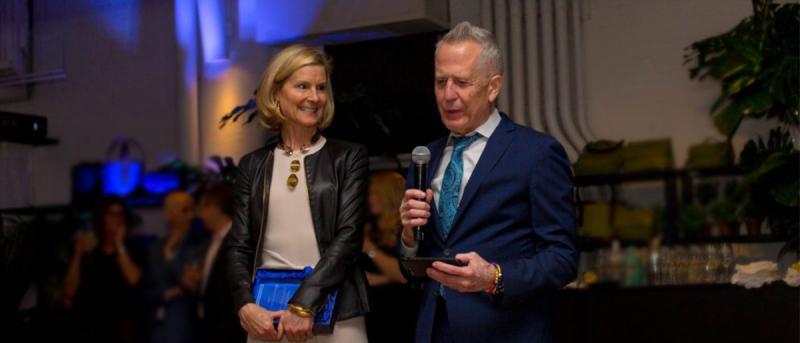 Weinberg Family Cerebral Palsy Center honored at 2019 Cerebral Palsy Foundation Gala
The Cerebral Palsy Foundation hosted their 2019 Design for Disability Gala, on October 28, 2019. This annual benefit event provides an opportunity to recognize and celebrate the positive impact being made to improve the lives of people with disabilities through healthcare, research, and design. The Master of Ceremonies for the evening was Jason Benetti, an ESPN and Chicago White Sox Sports Announcer with cerebral palsy (CP).
The Weinberg Family Cerebral Palsy Center (WFCPC) was honored to be one of three Excellence Award winners of the gala. Specifically, the WFCPC was recognized for the commitment to lifespan care for individuals with CP.
"The Weinberg Family Cerebral Palsy Center is humbled and honored to receive this award," said Dr. David P. Roye, Jr., Executive Medical Director of the Center. "We are proud to have a partner like the Cerebral Palsy Foundation, whose mission so closely aligns with our own a commitment to making a difference and improving the quality of life for people of all ages living with Cerebral Palsy. The resources that the Cerebral Palsy Foundation offers to patients and caregivers are integral to supporting the medical care provided by our faculty and staff. We look forward to working together in service to our patients and the cerebral palsy community, and want to thank the Cerebral Palsy Foundation for this tremendous honor."
The event also featured an innovative line of accessible accessories created by a partnership between the Fashion Institute of Technology (FIT) Master of Fine Arts program in Fashion Design; Barbara Bradley Baekgaard, Co-Founder and Chief Creative Officer of Vera Bradley; and the Cerebral Palsy Foundation.
To learn more about the Cerebral Palsy Foundation, click here.