WFCPC Launches Infant Movement Evaluation Clinic
Multidisciplinary Evaluation Clinic Provides Guidance for Infants with Motor Concerns
For infants with motor development concerns, early assessments can help families identify and understand how to best support their child's ongoing development. The Weinberg Family Cerebral Palsy Center (WFCPC) is launching this fall, the Infant Movement Evaluation Clinic to provide comprehensive evaluations of motor development in young children. The clinic is led by Pediatric Neurologist, Jason B. Carmel, MD, PhD and Pediatric Physical Therapist, Lisa Yoon, PT, DPT, PCS, who specializes in the evaluation and care of infants with challenges in movement. 
"As parents, we want our child to have every opportunity to learn and develop. When there are concerns about development of movement, such as delayed head control, rolling, sitting, or walking, parents want to know whether the delay is significant," said Dr. Carmel. "We use our expertise to help navigate diagnosis and treatment, if indicated."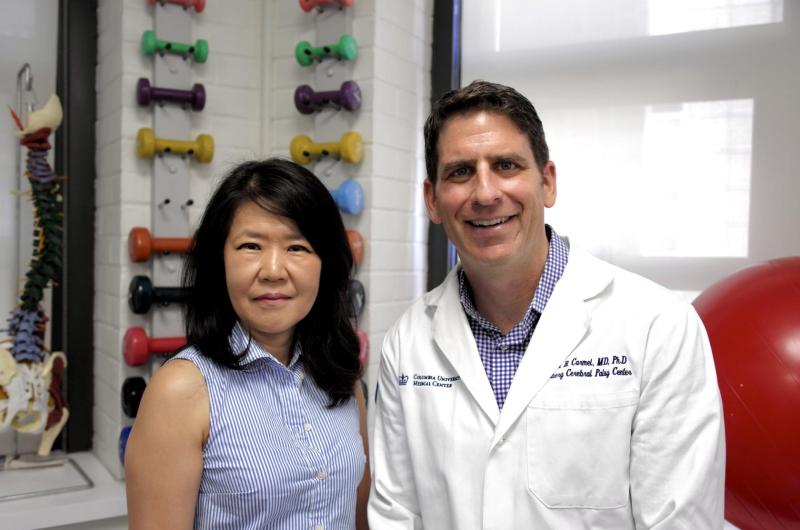 At the clinic visit, the evaluation team will use non-invasive, standardized assessment tools to provide information on how your infant's motor system is developing. Dr. Yoon is trained in the General Movement Assessment (GMA), and the Hammersmith Infant Neurological Examination (HINE), tools to identify abnormal or absent movement patterns and provide information on how the brain and the body are forming connections. The team will work together with the family to provide a diagnosis, if applicable, and guidance on next steps. Families will also be able to connect with the WFCPC's multidisciplinary care services, including social work and physical therapy. 
"Early, regular monitoring and timely dosing of evidence-based interventions can help improve a child's motor outcomes. The evaluation will be followed by a treatment plan which may include physical therapy or other developmental therapies, supports and/or programs to help your child improve their motor function," said Dr. Yoon. "The WFCPC's Care Coordinator may also point you to other resources to support your child." 
Learn more about the Infant Movement Evaluation Clinic here.
Dr. Yoon and Dr. Carmel are hosting a community webinar on September 28th, 2023 for families, primary care physicians, therapists or other professionals caring for infants and young children who are experiencing motor delays and movement concerns. They will share and discuss who can benefit and what to expect from an movement evaluation. Find the details and registration here.