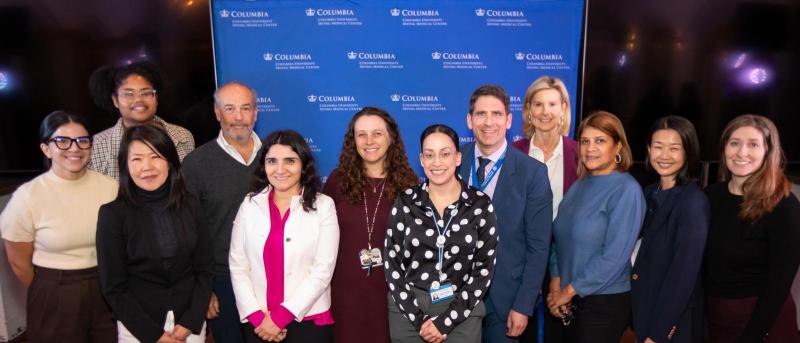 Columbia Receives $6.5 Million Gift to Expand the Weinberg Family Cerebral Palsy Center
Transformational gift to launch the Center in to its second decade
With a transformational gift of $6.5 million, the Weinberg Family Cerebral Palsy Center at Columbia University Vagelos College of Physicians and Surgeons (VP&S) will launch its second decade of excellence in clinical care, research, and education programs for people with cerebral palsy (CP).
Established in 2013, the Weinberg Family Cerebral Palsy Center is dedicated to lifetime, multidisciplinary care for families living with cerebral palsy. Since its founding, the center has pioneered the care of patients of all ages and facilitated the transition from pediatric to adult care. In its first decade, the center emphasized coordination of care with specialists in a variety of disciplines, with a special focus on the emotional well-being of patients and families through support programs and mental health care, and created educational programs for medical professionals and the CP community. It is the only CP center in the country to house a basic science program.
Building on these accomplishments and the center's strengths, this gift from the center's original benefactors, Deborah and Peter Weinberg, will enable the center to deepen its holistic approach to improving the lives of people with CP by expanding its multidisciplinary team of clinicians, creating state-of-the-art laboratory spaces for translational science, and establishing new educational opportunities for physicians specializing in the practice of CP care.
"The Weinberg Family CP Center provides the multidisciplinary care that our patients need to live their lives fully, and it strives to put patients at the center of all it does," says Katrina Armstrong, MD, dean of the Vagelos College of Physicians and Surgeons and executive vice president for health and biomedical sciences at Columbia University. "Debby and Peter Weinberg are exceptional partners, and we are grateful for the faith they have placed in our plans for the future."
"We are at an inflection point in the field of electrical stimulation, where protocols developed in laboratory models have proven safe and effective," said Jason Carmel, MD, PhD, executive director of the center. "The new neuromodulation laboratory will enable us to test these protocols—that we and others have developed—in people with CP. Our goal is to better understand the mechanisms of this new therapy and to test its efficacy to reduce spasticity and restore movement."
The gift also will facilitate opportunities to train the next generation of physician-scientists to care for children and adults with cerebral palsy and related disorders. Through fellowships and mentoring opportunities, senior physicians from multiple disciplines will help trainees learn about CP and the latest research and treatment options.
"Our goal with this gift is to continue to make the center a nationwide model for an integrated research and treatment program to help patients with cerebral palsy manage their condition holistically with the best care and as much support as possible," Debby Weinberg said. "We feel extremely grateful to Dr. Carmel and to all of our son's physicians at VP&S for the superb care they provided and the dedication they have shown our family—and every family that comes to the center."
A decade ago, Debby and Peter Weinberg made a foundational gift to Columbia to start a center dedicated to cerebral palsy, a condition affecting their son, Henry, who was diagnosed at 3 months old with a rare form of the disorder. The Weinbergs, along with friends and family, founded the center with the original vision of creating a medical home for all CP patients that would coordinate their care with specialists and ease the transition of teenage patients into adult care. The center accomplished that and much more. Mr. and Mrs. Weinberg's son is now 28 years old and thriving in Boston. He continues to see his team of physicians at VP&S for his care.
"As I think back on that time, it seems fitting that we included a bridge in the center's imagery as it reflects so much of what we are about," said Dr. Carmel. "It reflects a transition to the second decade of leadership in the field, our continued enhancement of clinical programs that bridge pediatric and adult care, the continued strengthening of the connections we are fostering between medical specialties, and our efforts to bridge basic science discoveries into clinical practice. I'm really optimistic about the future."