Cerebral Palsy and the Disability Rights Movement: Where We've Been and Where We're Going
Lindenaure Lecture 2020 – November 18 // 5:00 pm EST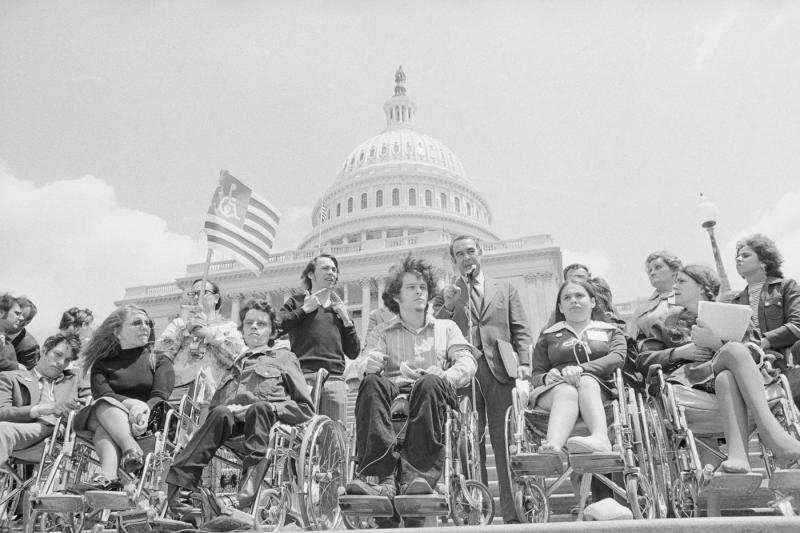 Photographer: Bettmann/Bettmann
Join us for a discussion on the past, present, and future of the Americans with Disabilities Act (ADA) and what you can be doing as a medical provider, community member, and person with cerebral palsy.
Activists Cara Liebowitz and Denise Sherer Jacobson, MA, will lead this one hour interactive program. They will share personal experiences as Denise was born pre ADA and seen in the acclaimed Netflix documentary Crip Camp: A Disability Revolution and Cara was born post ADA, and currently lives in Washington DC actively advocating. There will be an interactive Q and A at the end. 
Speakers
Cara Liebowitz

Disabled Activist and Writer

Cara Liebowitz is a disabled activist and writer.  Originally from Long Island and now living in the Washington, DC area, Cara is the Development Coordinator for the National Council on Independent Living, handling the organization's fundraising, grant writing, and organizational partnerships.  Cara also works as a freelance sensitivity reader, providing feedback on disability representation in manuscripts at all stages of pre-publication.  Cara's work has been published in a wide array of online and in person outlets, including the Washington Post, Uncanny Magazine, Everyday Feminism, and more.  She is active in the DC Metro chapter of ADAPT as well as other organizations and has been arrested twice for civil disobedience.  In her (increasingly limited) spare time, Cara likes to read, watch Star Trek, and spend time with her cat.  You can find out more at caraliebowitz.wordpress.com.

Denise Sherer Jacobson, M.A.

Activist, Educator, Counselor, Administrator, and Oral Historian

Denise Sherer Jacobson, M.A., has worked as an activist, educator, counselor, administrator,and oral historian (at UC Berkeley) in the Independent Living Movement for over 40 years. She is the author of a multi-layered memoir, The Question of David: A Disabled Mother's Journey Through Adoption, Family, and Life. Sherer Jacobson's blogs, articles, stories, and poetry have been published on websites in newspapers, magazines, and anthologies. In 2015, she was the subject of a New York Times online photo essay. She is the story consultant for the acclaimed Netflix documentary Crip Camp: A Disability Revolution, as well as a featured personality in the film. Sherer Jacobson has given presentations on disability-related issues both nationally and worldwide. Her goal as a writer/educator is "Weaving the Disability Experience into the Tapestry of Living."

Jason Carmel, MD, PhD (Moderator)

Executive Director of WFCPC
There is no cost to attend this event.